Reseller of Finnish Lapland - Timapuu
In Lapland, people enjoy hot tubbing all year round
Located in Tornio, Finland, Timapuu is a family-owned company which makes high-quality barbeque huts, saunas and summerhouses, delivered directly to customers on a turnkey basis. In addition to these, the company also sells Kirami products. Hot tubs are a hot item in Lapland, where the temperature of natural waters rarely rises above 15 degrees Celsius.

"My father Antti got started in this business back in 1995. In January 2000 the family business became incorporated and was renamed Timapuu Oy, which is also when I hopped on full-time. Antti has been retired for 7 years now, but is still actively involved in the company's operations," says the company's current CEO Timo Marttila.
Hot tubs by public request
Timapuu has been selling Kirami products for 5 years now. Hot tubs were added to the company's range of products at the request of its customers.

"Our customers kept asking us about hot tubs, so we started looking into which Finnish company's products would best complement our own range of products. In our opinion, Kirami had the highest-quality and most stylish hot tubs," says Marttila.

Timapuu sells hot tubs primarily to their local areas by the Torne river, but also to wider areas in Finland and Swedish Lapland.
"Up here in the north, places located 300–400 kilometres away are still considered nearby," Marttila reminds us.
Hot tubs provide enjoyment to both tourists and locals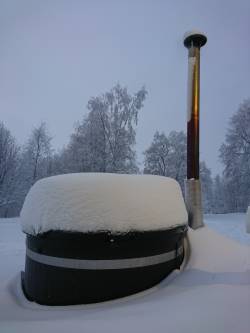 Hot tubbing is very popular up in the north, which should not come as a surprise considering the cold weather conditions.

"Local rivers and lakes rarely warm up to temperatures above 15 degrees Celsius, so a hot tub provides a nice opportunity to dip into some warm water every once in a while," laughs Marttila.

"Many of us here at Timapuu have our own hot tubs as well. They're a great way to relax."

Kirami products have been tried and tested in the freezing temperatures of the north as well.
 "Last Christmas, for example, we delivered a hot tub to Pyhätunturi. On Christmas Eve, the customer sent me a picture from the middle of the forest. It was -22 degrees out and everyone in the picture was wearing Timapuu beanies. The customer thanked us profusely and said that they now had the best hot tub on the fell. It's always nice to receive this kind of feedback," Marttila thanks.

At Timapuu, the busiest hot tub sales season is between April and November. The company sells hot tubs to both private individuals and tourism companies. Indeed, Lapland's tourist industry has been growing rapidly in recent years.
"Just this January we sold a few large L model hot tubs to tourism companies. I'm sure tourists will enjoy soaking in those hot tubs under the northern lights," Marttila frames.
Quality guaranteed by own production
Timapuu's own products, consisting of barbeque huts, saunas and summerhouses, are made out of durable Lappish pine at the company's manufacturing facility in Tornio. The products are exported all over Europe.
Before 2000, Antti Marttila only sold products from other manufacturers, but eventually he realised that the manufacturers operating at the time were unable to keep up with the company's quality requirements and product demand. This is why the company decided to start manufacturing its own products as well. All of Timapuu's own products are delivered directly to the customer and installed so that they are immediately ready to use. The company employs approximately 10–15 people.

"We aim to continue working with Kirami in the future as well. I strongly believe that we can deliver hot tubs to different parts of Finnish and Swedish Lapland together with our own products. We are also currently looking for new resellers for our own products," Marttila concludes.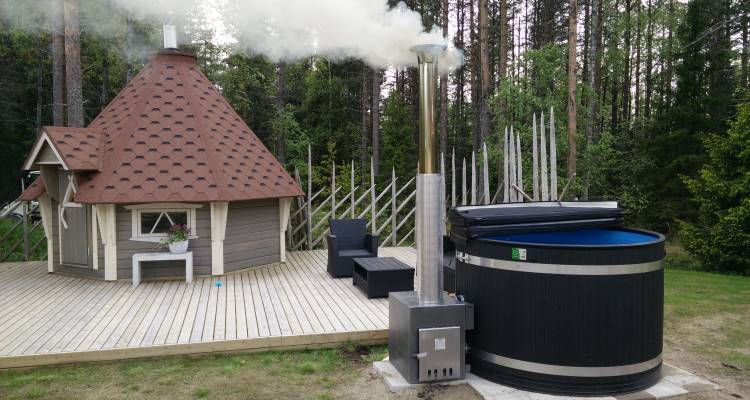 Timapuu Oy Marttila
Verkkotehtaankatu 12
95420 Tornio

www.timapuu.fi
info@timapuu.fi
Read more about winter bathing