Reseller holzimgarten: "Kirami is like one big family"
Retailer story 17.08.2020
Ziegelmühle in Rosengarten-Westheim is a peaceful little place in southern Germany, near the town of Schwäbisch Hall. This idyllic area where the rivers Bibers and Dendelbach meet has been home to the Heizmann family since 1927.
"It was my grandfather who originally bought this estate and started the sawmill. I took over the business in 1991. I invested in the company by buying new machines, for example," says the current owner of the company, Günther Heizmann.
For the first ten years, business was moderately good. Then things started getting difficult, as major competitors kept growing their market shares.
"In 2000, we came up with the holzimgarten ("wood in the garden") brand. Since then we have been patiently developing the brand. It has been important for us from the very beginning to only sell high-quality products."
The fire gave the push to reinvent the company
The fire on New Year's Eve that destroyed both the family's home and the sawmill facilities presented a new challenge for the Heizmann family. Luckily no one was injured in the fire. The family refused to let the tragedy get them down and quickly decided to close the sawmill and focus all of their attention on reinventing the company. 
"Nowadays we focus exclusively on the holzimgarten brand," explains Günther Heizmann, who describes himself as optimistic, creative and ambitious. 
Openness to new ideas has proven to be the right path in terms of the company's future. 
Everyone is involved in the family-run business
"We are a genuine family-run business. My son Patrick helps out in the company and also made our website. My daughter Kristin takes care of our social media channels. And my wife Brigitte helps out wherever help is needed. We always consider important decisions together as a family," the boss outlines. 
"My alarm clock goes off at six o'clock. After getting up, I browse the day's newspaper, eat breakfast and take our dog Bruno out for a walk. Then I head on over to the office, where I prepare quotes. Sometimes I also visit customers. It all depends on whether I need an assistant or set out alone," Günther Heizmann says.
Saturday is a normal workday in the company, with the staff often setting out to carry out on-site installations for customers. Heizmann and his team build garden cottages, terraces and fences, for example – and install Kirami hot tubs, of course. 
"My son Patrick helps me a lot with these jobs. In addition to him, we also have Hakan, who used to work at the sawmill. Nowadays he serves as my assistant and is simply irreplaceable," the sympathetic head of the family says, praising their only non-family employee.
Collaboration with Kirami started after thorough research
Being an ambitious entrepreneur, Heizmann did a great deal of research on different options after the decision was made to add hot tubs to the company's range of products. But why choose Kirami?
"We checked the internet for available options. Kirami seemed like the most compelling option to us from the very beginning. And it's not just because of the high quality of their products, but also because of the effort that they put into getting us aboard as a reseller.
That kind of dedication is by no means a given when it comes to small resellers," emphasises Günther Heizmann.
"I'd even go as far as to say that Kirami is like one big family. And that's very nice. We were immediately on the same wavelength," Heizmann adds.
At first, sales were a bit slow, above all because of the coronavirus, but lately orders have picked up considerably. 
"Demand is high at the moment, and I believe that we are on the right track. I am convinced that market leader Kirami's products are a prefect fit for us," Heizmann assures.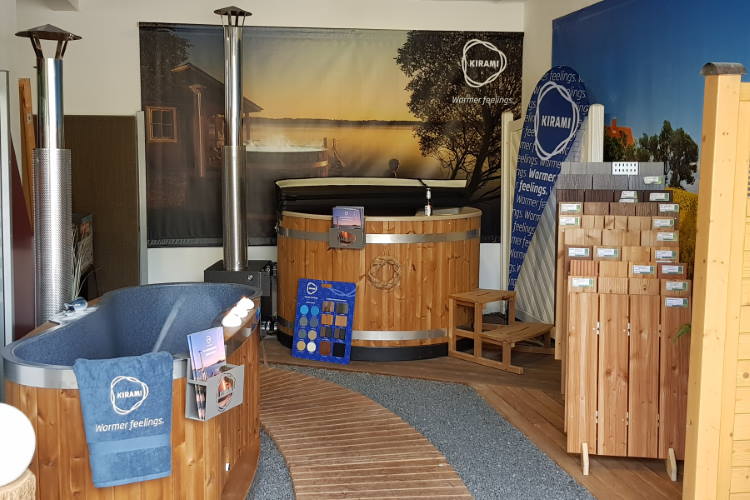 Finland is associated with saunas and bathing culture
holzimgarten's customers appreciate the relaxation and refreshment offered by hot tubs. Bathing in a hot tub is also simply really fun. People want to make their homes pleasant, with more and more home-owners also willing to invest in their homes.
"People associate Finland with saunas and bathing culture, and I believe that there's a clear distinction between selling German or Finnish products. It makes a big difference knowing that the product comes from a country with a long tradition in this area," Heizmann explains.
He also stresses that saunas and hot tubs belong together, and wants to convey this feeling to his customers as well, most of whom live nearby. 
"We want to develop the holzimgarten brand in a determined manner along with our collaboration with Kirami," Günther Heizmann says about the future. 
Minor initial problems and exceptional customer service
When you set out to do something new, it is perfectly normal to find that not all the pieces fall together right away. The German entrepreneur smiles as he recalls an incident at a trade fair last autumn. 
holzimgarten had just started its collaboration with Kirami. Two days before their trade fair debut, the first hot tubs were delivered to Rosengarten. Heizmann and his team placed the hot tubs on to the exhibition stand and filled them with water. Their plan was to offer visitors the opportunity to bathe in the hot tubs during the trade fair. 
"The Family hot tub was heated with a Cube heater. And heat up it most certainly did! The problem was that we couldn't turn the heat off on time. So we ended up with 48-degree water in the hot tub. We could have boiled sausages in it. Not exactly an ideal situation," Günther Heizmann laughs. The next day, everything was under control with Heizmann and his team having looked into things. 
Heizmann also recalls another incident that began with a minor setback after a family living 70 kilometres from the company ordered a hot tub.
"The customer came by with a smile on their face to pick up their hot tub directly from us. We had a pleasant chat, during which I gave them a few tips for using the hot tub. A few hours later, we got a call from the customer. They'd noticed that the cover that they had ordered for the hot tub was missing."
Günther Heizmann wasted no time and sprang into action.
"I set out that same evening, it was a Saturday evening, to the customer to deliver the cover. The family were very happy and thanked me multiple times. Nowadays the family frequently share pictures of their hot tub, follow us on Facebook and are positively thrilled about hot tubbing. This made a big impression on me," the energetic entrepreneur enthuses.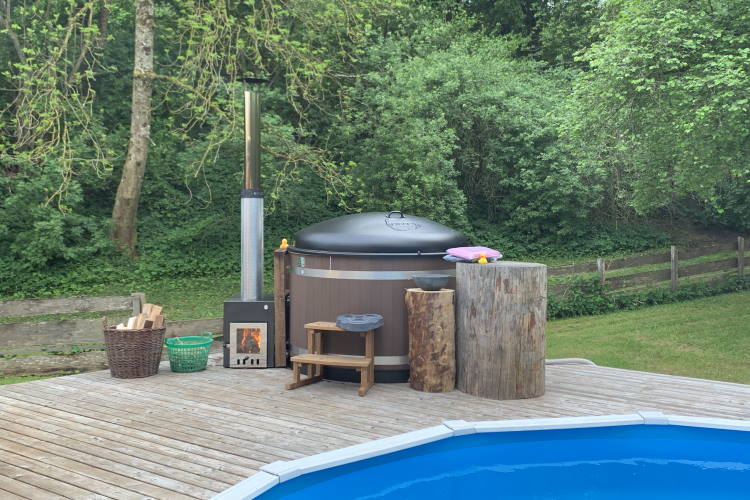 Collaboration with Kirami is something special
Günther Heizmann is always open to new ideas and things. He becomes enthusiastic about and is also ready to throw himself into things that might seem even a little crazy.
When Finland blogger René Schwarz and his colleague Tanja Frisch, who have long been collaborating with Kirami, came up with the idea of doing a live stream in a hot tub, they were immediately welcomed by the Heizmann family. The live stream became an anniversary broadcast celebrating Kirami's 19th birthday.
The live stream started with a relaxing moment in the family's barbecue hut. The grilled sausages and cold drinks fueled discussion about Finland, after which Günther and René stepped into the hot tub. The approximately one-hour-long live stream included the two of them answering viewers' questions about hot tubs, among other things.
"We've had Finnish products in our product range before, but Finland as a theme has never been so strongly at the forefront. The collaboration with Kirami is something quite special. It feels like we're all part of one big family. I find that really nice, and the collaboration has brought us a great deal of joy," Heizmann says, summarising his experience.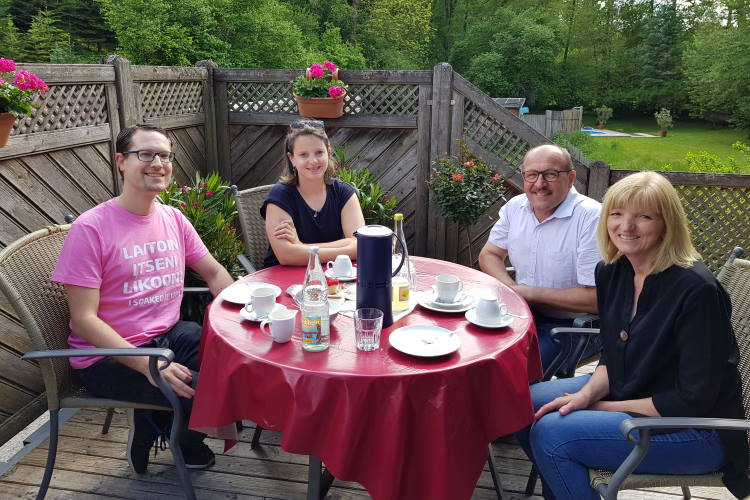 Be sure to check out holzimgarten's website
holzimgarten on Facebook and Instagram
Watch Kirami's birthday live stream from a hot tub (in German)