Two homes, two tubs
Customer story Riitta Okkonen 01.10.2020
Riitta Okkonen is a determined woman. She was born in Tohmajärvi in Central Karelia, but when she grew up, she left to see the world. She created an amazing career in the restaurant business, worked in large hotels and met many celebrities through her work. 
But the hard work took its toll. Eventually Riitta had enough and decided that something had to change. And so she changed her life and switched to a completely different field. 
"I became an entrepreneur and nutritional advisor. I gave lectures in front of thousands of people. I loved my new job a lot and it gave me so much – without me being exhausted all the time, like I was when I worked at hotels," Riitta says.
In her private life, Riitta and her husband Jukka had already clicked. One time when the couple were holidaying in Austria, they went to see a summer cottage just for fun. Not long after, they were holding the keys to the cottage. Ever since then the couple have spent a lot of time in the beautiful Austrian scenery – not least because their daughter Petra started her studies in the Alpine country. 
"As soon as I stepped into the cottage, I fell in love and knew that we had to buy it!" Riitta says enthusiastically. 
One of the first things the Okkonens bought for their Austrian holiday cottage was a Kirami hot tub. 
A Finnish hot tub in Austria
"This hot tub is absolutely one of Kirami's best models. It's an original wooden tub, and the fact that we still use it says something about how high quality it is," Jukka explains. 
The hot tub has already been standing in the yard of the Okkonens' cottage in Zell am See for roughly 15 years, and it has seen regular use. 
"I can't imagine a better way to spend time than sitting in the lovely heat of the tub, enjoying the mountain scenery and the wonderful silence," Riitta says.
But why choose Kirami? Jukka has a clear opinion on the issue. 
"Because the quality is absolutely the best there is. That's why I would choose a Kirami hot tub again, too."
Relaxing bathing moments in Central Karelia
After Riitta's parents died, she inherited their farm in Tohmajärvi, close to the Russian border. Then she had to decide what to do with it.
Riitta had a great idea. Why not turn it into a holiday farm where tourists could have a wonderful time? The farm was located on a small hill with stunning views towards a lake, and the large plot offered plenty of opportunities. 
"We built two new outbuildings with room for about 12 people in total. We serve breakfast and other meals to the visitors in the new summer kitchen. And of course, we also have a sauna."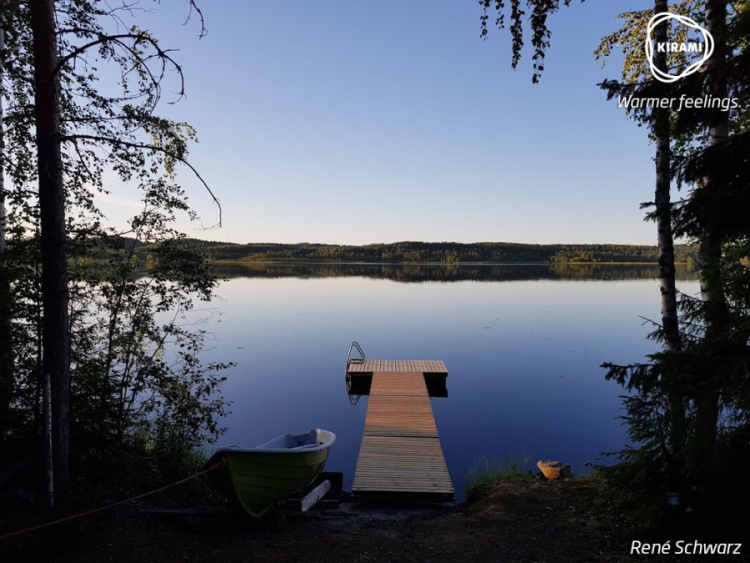 Naturally, they also had to get a hot tub to accompany the sauna. And so the Okkonens ordered their second Kirami hot tub – but this time they chose a stylish, modern model with a plastic tub.
"We are very happy with this tub, too. It's easy-care and durable. The first visitors loved it," Riitta says.
Warm hospitality and delicious food
Even though Riitta has not worked in the restaurant business for years, you notice her warm hospitality immediately. When visitors arrive at 'Itärajan Helmi' (Pearl of the East), the hostess serves them coffee right away. Riitta's cooking skills are in a league of their own. 
In the future, Riitta wants to host more than just Finnish visitors; she wants to bake delicious bilberry tarts and cook Karelian hot pot and other delicacies for holidaymakers from Central European countries, too. 
The traditional Finnish outbuildings without electricity will most likely be soon accompanied by a third outbuilding. "I want people to come here, where they won't need to worry about anything and where they can enjoy the amazing views and tranquillity. If someone has specific wishes for their holiday, they can always come and ask me," Riitta explains her concept. 
The Okkonens do not intend to give up either of their homes in the near future, and the same is true for both of the Kirami hot tubs.
"In the summer, I will stay here in Tohmajärvi the whole time and take care of the guests, but we will spend part of the winter in Austria in the future, too. It's great that we can relax in the warm water of the tub in both places," Riitta says with a contented smile.
See the live video from the Kirami hot tub with Riitta and René Schwarz, who blogs about Finland (FinnTouch.de) (video in German)