Franken SPA: Huge exhibition of Kirami products
Franken SPA: Kirami hot tubs and saunas on huge exhibition site
Bernhard Selig from near Bamberg loves his home region. "I come from Franconia, more precisely from the beautiful Steigerwald. There I live in Frenshof, which belongs to Schönbrunn. Our village has just 143 inhabitants," Bernhard tells us. "Located in the heart of Weinfranken and Bierfranken, there are more than 100 breweries in the area."
Just like this beautiful region, Bernhard loves sauna and wellness.
- This has always been a great passion of mine. As a student, I travelled across Europe with my wife and we visited various saunas and spas. At that time, I was still studying religious studies at the University of Bayreuth. I also had contacts with sauna during my studies. I took a seminar on the subject of sweat lodges of North American indigenous peoples," he reports. 
It all started with a mobile barrel sauna
Back in 2011, saunafan Bernhard started renting out a barrel sauna that was mounted on a trailer.  
- At that time, I financed my doctorate with the sauna trailer. A second sauna followed, and finally a hot tub for rent. Then, at some point, the time came when I quit the doctorate and continued to expand the business," Bernhard laughs.
So the sympathetic Franconian turned his passion into his profession. Since then, the business has grown steadily. 
Own sauna infusion brand
In 2015, Bernhard launched his own sauna infusion brand "Odoro Essenzen". For the products he focused not only on high-quality ingredients, but also on an appropriate visual appearance.
- "Odoro" in Latin stands for "surrounded with a pleasant fragrance". Our Odoro essences are selected fragrance blends aimed at a public that values quality and interesting scent experiences. The bottles are made of shatterproof glass polymer and have high-quality labels with real gold printing."
Among others, the renowned "Robinson Club" relies on the products of Bernhard Selig in its wellness areas.
Not all hot tubs are the same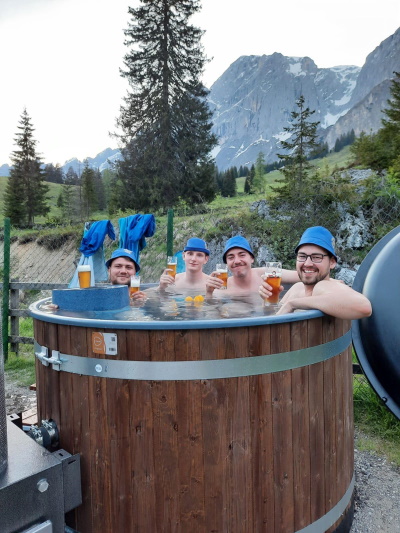 In his search for appropriate additions to the Franken SPA range, Bernhard finally started to have a look at hot tubs.
- I had noticed that there was a trend towards hot tubs in the Baltic States. Accordingly, I started with hot tubs produced there. However, I soon discovered that they had some problems regarding the quality, so I continued my search," says the wellness entrepreneur, describing his experiences.
So one thing led to another and Bernhard discovered Kirami one day.
- I noticed Kirami's products at a trade fair. Then I bought a hot tub from a German retailer and tested it myself. I was immediately convinced by the quality.
At the Interbad 2015 trade fair in Stuttgart, Bernhard met Taina and Arja from Kirami to talk about the first steps together.  
- Then things got going very quickly. In 2019, I already designed a large trade fair presentation in cooperation with Kirami at the "Haus-Garten-Freizeit" in Leipzig, one of the largest consumer fairs in Germany.
Saunas on a roof terrace
Today, Franken SPA not only has Kirami hot tubs in its range, but of course also the elegant FinVision -Original and FinVision -Nordic misty saunas.
- Thermal baths and saunas are very popular in Germany. For your own small wellness area in the garden, the Kirami products are ideal. Most customers are fed up with inflatable pools that break right away. They want something durable that has quality and can be used all year round.
A few of the saunas Bernhard has delivered so far are even located on roof terraces, others right next to the forest, where you can spot the deer through the sauna's large glass window.
- The biggest differences between the German and Finnish sauna culture are probably that here people generally go saunaing without textiles, the sexes are mixed and infusions of various scents are very popular. The market for saunas will continue to grow in Germany, Bernhard is sure.
Germany's largest Kirami exhibition
The head of Franken SPA is particularly proud of the company's own exhibition grounds in Schönbrunn, which cover more than 1000 square metres.  
- Here, customers can view all the hot tubs from the Kirami range and, of course, the FinVision sauna in various designs. In the beginning, I just had the hot tubs standing on the lawn. People came from Eisenach, Passau or Stuttgart to see them. That encouraged me to create a really nice exhibition area. People simply want to feel the products, to hold them in their hands.
An experience during a visit to Kirami in Finland confirmed Bernhard in his course to continue investing.
- We sat with Kirami CEO Mika Rantanen and Taina Hujo-Oittinen over dinner in Turku. We had a great exchange about our business areas with all the opportunities and risks. And Mika's final sentence stayed in my mind: "Always going forward". 
In Bernhard's experience, most sales come from previous sales.
- Someone buys a hot tub or a sauna, the neighbour sees it and wants the same thing.
New Year's Eve in the hot tub with champagne and fireworks
- Kirami is considered a quality leader in the hot tub sector and it is very important to my customers that the products come from the country of the sauna. "Made in Finland" has a big influence on the purchase decision, Bernhard knows.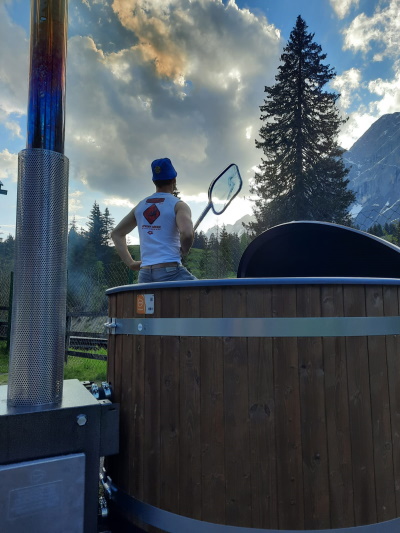 But as already pointed out, sauna and hot tub are not only business for the sociable Franconian, he also uses both extensively in his own free time.
- I have fond memories of New Year's Eve in the hot tub with champagne and fireworks. On many holidays, too, we simply take our hot tub with us on the trailer. For example, last year we were in the Alps at a cottage and set up our own Kirami hot tub there - great fun.
A cool Kellerbier from our Franconian home region is a must on such occasions. What are Bernhard's goals for the future?
- We want to further improve the bathing and sauna experience of everyone who is interested. To achieve this, we develop and sell innovative products. Kirami will continue to be a top partner. We are very happy about this wonderful cooperation, which has been going on for many years in a friendly atmosphere. It is quite possible that we will also start joint projects in the future, Bernhard says at the end.
Follow Franken SPA on Facebook and Instagram