Finland blogger René checks out the FinVision sauna at Kirami
Finland blogger René Schwarz checks out the FinVision sauna 
Kirami has already worked together closely with the German-Finnish blogger René Schwarz for many years. Just like us, he is always open to new and sometimes crazy ideas, and so it happened that during his five-week summer trip around Finland, he also visited our headquarters in Sastamala, where he did not only check out the elegant FinVision sauna, but together with Taina and Konsta from Kirami, the first-time author also streamed from a pleasantly heated hot tub and talked about his adventures.   
It was raining cats and dogs when René Schwarz and his family arrived at the Kirami site in Sastamala, southwest Finland. Only a few hours later, a livestream was to start in the outdoor area, which the 39-year-old's followers were already eagerly awaiting.
- We decided to have a nice meal inside first. Taina and her staff had already prepared everything. There was delicious soup and Karelian Pies. What a warm welcome, says René, who arrived with his wife Carolin and his son Jari.
The family had barely finished their meal when the clouds opened up outside and the preparations for the stream could be continued in a good mood. Of course, the visitor, who was born in Berlin but had been in love with Finland since his earliest childhood, was particularly excited to finally be able to sweat in the new FinVision sauna. Of course, this should also happen in front of the camera, streamed to the whole world via the Facebook page of his blog FinnTouch.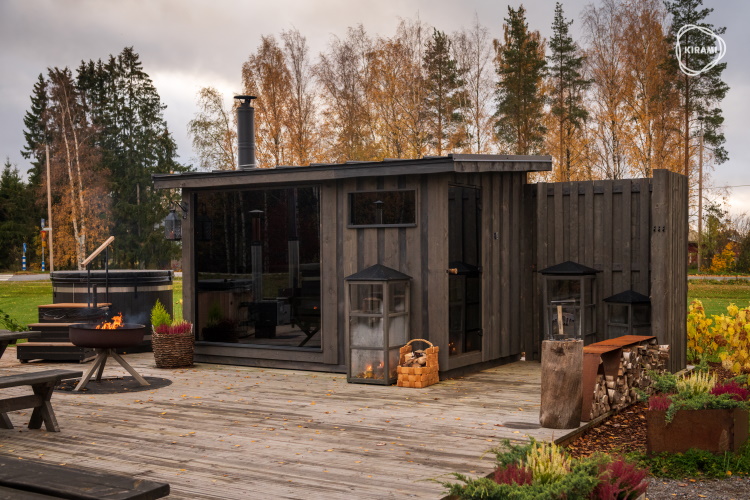 The FinVision sauna with wood-burning stove was heated up in advance so that the sauna experience would also be authentic for the audience at home.
- First of all, we started in the sauna model with electric stove, where the temperatures were not that hot, so that we could talk about the details of the FinVision sauna without worrying about the technical equipment, explains the half-fin.
- Our sauna has got great feedback from the customers so far. One of the most important reasons for this is probably that the product is delivered as a fully assembled module. It is particularly important to us that the commissioning of the product is as simple as possible for the customer, states Taina, who is responsible for Kirami's sales to Germany.
- Then we moved over to the wood-fired sauna. After throwing proper "löyly", my glasses immediately steamed up, but apart from that, it was simply fantastic. It was a unique experience, because I had never streamed live from the sauna on Facebook before, René laughs.
Relaxed talk in the hot tub
After the sauna debut, a relaxing bath in the Kirami hot tub was of course a must. Only a few metres away from the sauna, a Family L hot tub was already waiting for the three happy protagonists.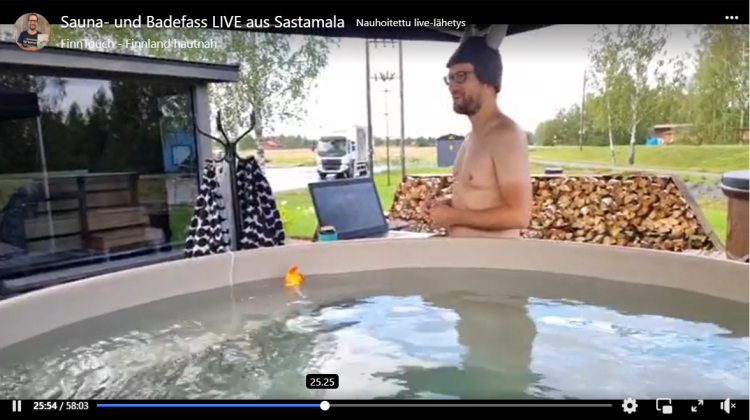 Sitting in the warm water, René told Taina, Konsta and the viewers of the stream about his experiences in Finland while enjoying cool drinks and delicious snacks. From Helsinki, he and his family first drove to North Karelia, where René did a first hot tub livestream together with host Riitta Okkonen at Itärajan Helmi in Tohmajärvi. Via Rovaniemi, the family travelled on up to Utsjoki, Finland's northernmost municipality. After stops in Tornio and the Vaasa region, among others, the road finally led to Sastamala and to Kirami.
- I am very grateful for all the great moments, experiences and encounters on this special journey. Quite often, you only really realise what you have experienced when you tell others about it, René reflects.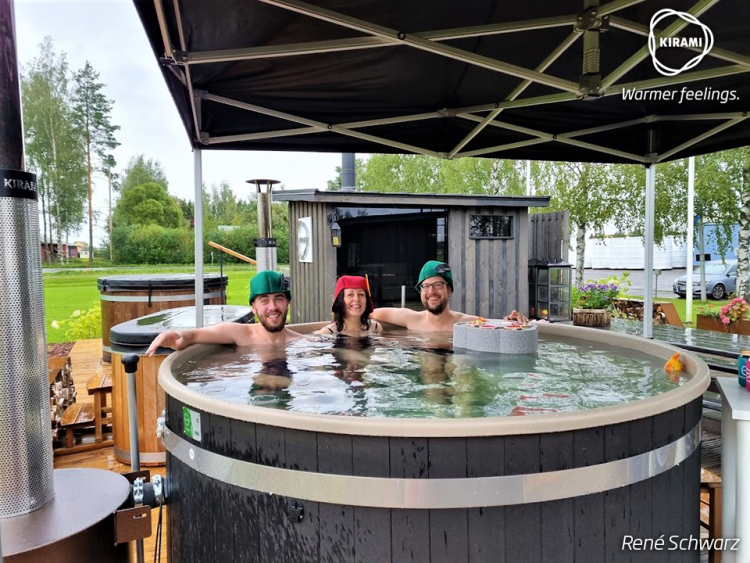 First own book "Places of Happiness in Helsinki"
The blogger, who lives near Frankfurt am Main, had one more highlight still to come. At the end of the hot tub session, he announced that there would be another livestream from the Finnish capital the next day - the official presentation of René Schwarz's first book, " Places of Happiness in Helsinki" (german original: "Glücksorte in Helsinki").
- I worked for more than a year on this book, in which I present 80 places I have chosen in Helsinki in words and pictures. It includes not only well-known sights, but also rather unknown places of happiness and some completely new spots that are not yet to be found in any other book.
The author is very happy about all the positive feedback so far, but he is already looking ahead to the future.
- Despite the currently difficult times, there are first requests for live performances in connection with the book, in a few weeks I'm flying to Finland again for a nice cooperation and at the end of November I'm looking forward to my first group trip to Helsinki, which I'm organising together with the experts for Finland tours, fintouring. And of course you will see me soon in a Kirami hot tub again, smiles René Schwarz.
Read René's travel diary of his 5-week summer trip around Finland
Watch the livestream from Sastamala on Facebook
Order René Schwarz' book "Places of Happiness in Helsinki" in the FinnTouch shop