Enjoy Finnish sauna ja hot tub with amazing sea view on top of a cliff in Scotland
Customer story 20.5.2021
Kirami's hot tubs and saunas can be found in many spectacular places. One of these is Cantick Head Lighthouse Self Catering Cottage on the Orkney island of Hoy in Scotland. Here you can enjoy your time in a hot tub and sauna while gazing the roaming sea at the same time. You might even catch a glimpse of orcas in the sea while sitting in the warmth of a traditional Finnish sauna. 
Perched at a top of a breathtaking cliff, the milieu of the cottage is unique.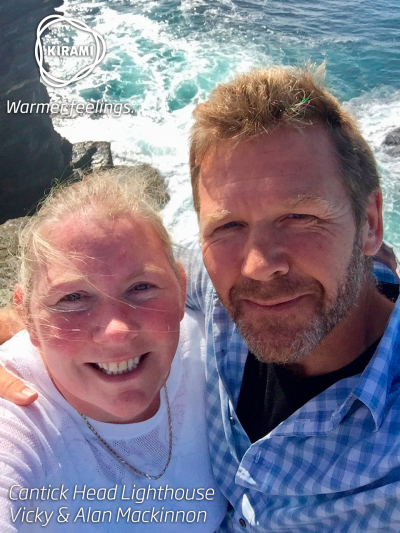 – Cantick Head Lighthouse is a remote enough to make you feel as though you've been magically spirited away from everyday life. Here you can expect timeless comfort in charming surroundings – the lighthouse and cottage were built in 1856. Everything you need for a relaxing holiday or vacation is here, including a well-equipped kitchen, a family bathroom, and a snug lounge that comes complete with a warming fireplace. We also offer amazing sea views, BBQ, fire pit and of course a Kirami hot tub and sauna, says Alan Mackinnon. 
Alan and his wife Vicky live in Cantick Head Lighthouse with their three kids. 
– We moved here three years ago to operate the cottage, which is possibly the most unique accommodation in Orkney island. Here you can steal away from civilisation, to an historic haven, with dramatic sea views. Adjacent to the lighthouse tower itself, the cosy self catering cottage is dog friendly and sleeps four to five guests in two bedrooms.
Watch the passing orcas and Northern lights
Mackinnons aim to make the stay unforgettable.
– Our customers come from all over the world to stay at this magical location. We aim to offer an outstanding service to all our guests and we are continually looking to improve the business.
– Part of our improvement plan was the addition of a Kirami hot tub and sauna, something we all love and we are sure our guests will enjoy. Imagine looking out to sea from the hot tub or sauna and watching the passing orca or starry nights, and the Northern lights dancing in the sky! FinVision -sauna has a big window, so it fits our purposes perfectly.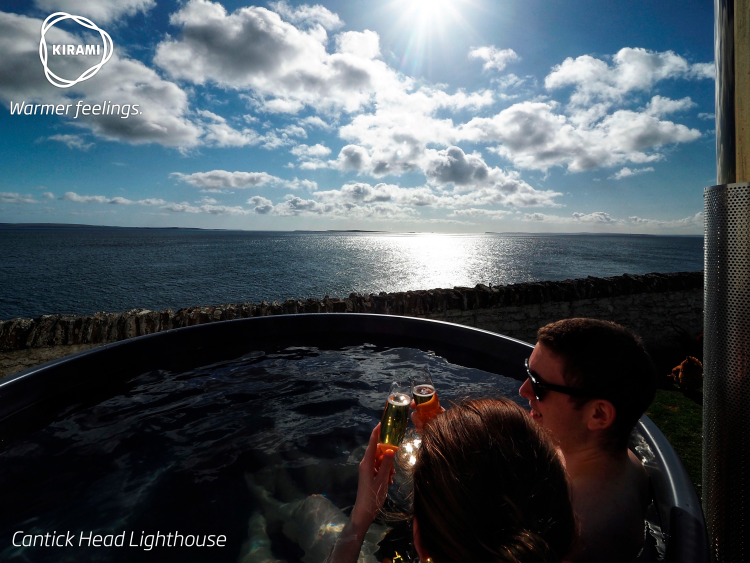 Impressed with the quality 
Alan Mackinnon was very keen to find a traditional wood-fired hot tub and sauna.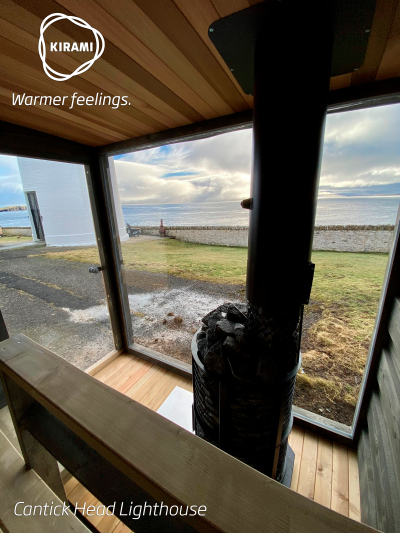 – Then I discovered the Kirami products from Finland were available in the UK and my mind was made up. I spoke to Mark at The Log Company who are UK distributors for Kirami. He was very helpful and despite our remote location in the North of Scotland he said they could undertake the supply and installation for me.
– The installation of both the hot tub and sauna was completed in one day. I had already prepared a level concrete base for both ensuring they would enjoy spectacular sea views at our location.
The quality of the tub and sauna made Mackinnon happy. 
– I have been very impressed with the quality of both the sauna and hot tub. I am also very keen to discover the Finnish sauna traditions. I am sure many of our guests will combine open cold water swimming in the sea with a relaxing dip in the hot tub or sauna to warm up. We are looking forward to enjoying our Kirami products for many years to come and hopefully the investment will also help us grow the business.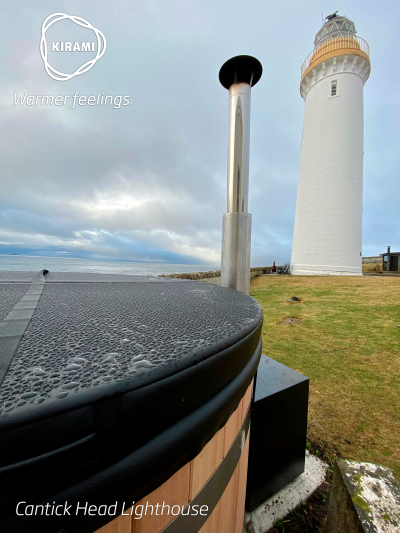 Follow Cantick Head Lighthouse on Facebook and Instagram to what more it has to offer:  https://www.facebook.com/cantickhead/
@cantick_head