Finland 100 for Kirami
Nature, diligence and perseverance. Waterways, serenity and being together. What do Finnishness and the Finland 100 anniversary mean for Kirami?
All of the above. We are ever more aware of our beautiful nature, and we want to be a part of the work that cherishes its well-being and sustainability. For example, we have made environmentally friendly alternatives available, made from recyclable materials, and we are also involved with more product development. We value our magical nature, and our products have been designed to be placed in the middle of it. You can bathe and barbeque next to beautiful lakes, islands and fields, and of course also in your town garden or in the countryside. Wherever you enjoy bathing in our hot tub, it always happens in fresh clean air, amidst greenery, snow or autumn foliage. Finnish environment makes it possible to enjoy outdoor hot tubs on any day of the year.
Cherishing time spent together, family and friendships is a matter of a blue-white heart for us. We are always interested in bringing families together, to bathe and relax. This inspired us to develop the Family hot tub for the centenary of Finland: a hot tub for the entire family, regardless of age and physical condition. Our goal is to take everyone's needs into consideration to the best of our abilities, so that we could bring many generations of the same family together.
At Kirami, we appreciate Finnish strength and quality. When we do business abroad, we can always present our home country and its strengths proudly. We value Finnishness: it is our greatest advantage when we do business in Europe. We are proud to say that we are a Finnish company.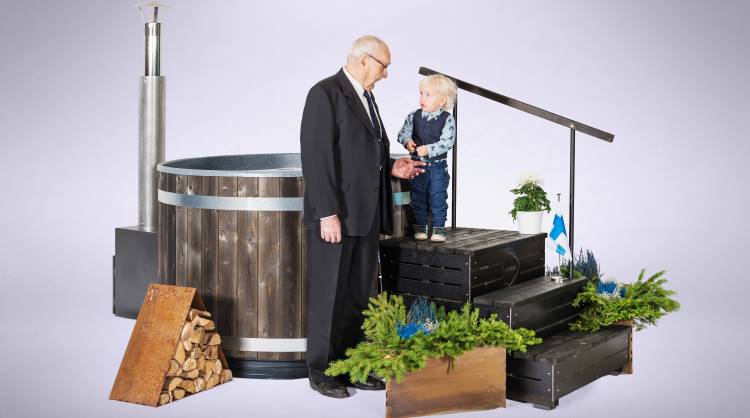 Kirami's journey in Finland began in 2001. We are grateful for having been able to walk hand-in-hand with Finland for the past 16 years, and we hope that Kirami and Finland will continue on their journey together for a long time to come. We would like to offer our heartfelt congratulations to the centenarian Finland!