From a travel agency via a bank to Kirami
Maarit Pihko has a long career in customer service. "One of my dream jobs was to be a travel agent and I did that for more than 15 years. I moved from the travel agency to the banking sector and worked there for more than 10 years. I have always been interested in travel and Italy in particular is close to my heart. I have been there many times and there are always new things to see and new places to visit. I have studied the basics of the Italian language at the adult education centre, so I have some understanding of the language," Maarit tells us.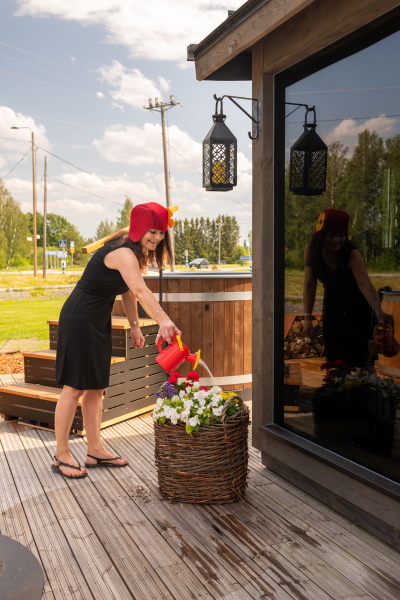 So how did she find her way to work for Kirami? "I had been working in a bank for a long time and I wanted something new for my career. I decided to study and in autumn 2019 I took a study leave. I started studying for a professional qualification in business with a specialisation in international trade," Maarit explains. She joined Kirami for an internship in September 2020, during which she was offered a permanent job. "Right from the start, I felt that there was a good vibe and a relaxed atmosphere at Kirami and I really felt comfortable there. I left my previous job and in January 2021 I started as a permanent employee as an export salesperson."
Maarit speaks English, Swedish and German. English is used on a daily basis as she is responsible for Bulgaria, Romania, Slovakia, Slovenia, Denmark, the Czech Republic and Hungary. "The markets in many of my countries are fairly new for hot tubs so it's a challenge to promote the product. However, awareness of hot tubs is growing in these countries all the time and it is quite new and exotic for them," Maarit explains her working patterns. Personally, she likes the fact that new things come up every day. "You are constantly learning new things and there are challenging tasks almost every day."
A typical working day starts with Maarit reading and responding to the first emails she receives. She makes requests for quotations, deals with orders and handles complaints. She also receives all sorts of questions and issues from customers, which she clarifies and responds to. "I also handle shipments of goods abroad, order freight and prepare waybills. I stay in touch with our retailers.  Together with the other salespersons, we work out different marketing measures," says Maarit.
When asked what she likes about her job, Maarit smiles: "Everything, especially the great colleagues! Our working community is really great, relaxed, happy and caring. The work ethic is high and everyone does their best and takes responsibility for their work. Colleagues are always there to help and give advice in any situation. And even when you're in a hurry, a sense of humour is still there." The work itself is also fun. "You get to interact with people and customers. The work varies and every day is different."
Maarit's advice to a starting Kirami retailer is to have a positive and enthusiastic attitude and an interest in wellbeing. "It's also an advantage if you have first-hand experience of using a hot tub, then you understand what a great invention a hot tub is. Our sales staff will always give you help and advice on any questions you may have, so don't hesitate to ask, no matter what. We do this work together." Maarit would also tell a novice export salesperson that attitude is the key. "It's important to be interested in your customers and to serve them in a friendly and human way."
Maarit loves reading, outdoor activities and skiing in winter. She also enjoys going to concerts and gigs and travelling. At home, she has both an indoor and an outdoor sauna. "My son has a hot tub, so I have a lot of experience with hot tubbing, too," Maarit says. She has no special sauna traditions other than, of course, the Christmas and Midsummer sauna. "We go to the sauna quite often, especially in the summer, and the outdoor sauna heats up several times a week."