Elitnye Kaminy sells Kirami hot tubs in the Russian market
Kirami's reseller Elitnye Kaminy is based in St. Petersburg, and their selection includes hot tubs, fireplaces, sauna heaters and chimneys. Elitnye Kaminy's primary market area is Russia's Northwestern Federal District, but the company sells hot tubs in the entire federation.
Hot tubs next to ice water tubs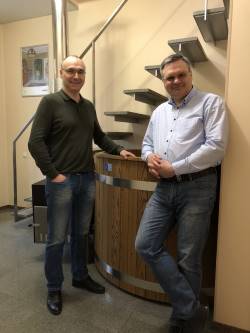 When Elitnye Kaminy and Kirami started their partnership in 2013, hot tubs were quite rare in Russia. Instead, tubs filled with ice water were and still are popular, which is probably because of the Russian tradition of swimming in an ice-hole after going to a sauna.

"When we started working together, we realised that Russians aren't very familiar with heated tubs. They were a completely new product to many of our customers. We could notice that in our first exhibition in Moscow where people were very excited about Kirami's products," says Aleksandr Repchanskij from Elitnye Kaminy .

Today, after a few years of operating in Russia, the interest towards hot tubs has increased even further. During this time, many competitors have also appeared on the market. However, not all the competing products have the same quality as Kirami's products.

"One customer visited us several times, considered their purchase decision for a long time, studied the alternatives and finally ended up buying a cheaper tub from a local manufacturer. They suffered with the poorer-quality tub for a year, after which the tub broke down. The customer came back to us and bought a Kirami tub," Repchanskij recounts.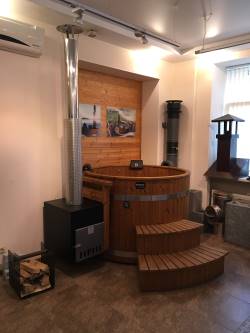 Wooden tubs are the most popular
Russian customers are particularly interested in wooden hot tubs. For the moment, plastic tubs have gained less interest. The customers of Elitnye Kaminy typically belong to middle class or upper middle class.

"Mostly, they're people who have built their own house and sauna and want to have variety in their leisure time with various pleasant 'details,'" Repchanskij describes the company's customer base.

The staff of Elitnye Kaminy sometimes hears about unusual ways of spending free time.

"In Vladivostok, customers bet that they could boil water in a 220-centimetre-wide tub and sent us a video about that," Repchanskij says, laughing.
An experienced importer of Finnish products
When Elitnye Kaminy started operating in the St. Petersburg market in 1999, the cottage business was growing rapidly. The founders of the company started out as fireplace installers.

"In the beginning, we would install simple brick fireplaces and heaters, after which we moved on to installing products from foreign manufacturers. They were mostly French heaters, and we found out about the Finnish fireplace manufacturer Tulikivi only later. Since Tulikivi didn't have their own import operations, we and their representative agreed on delivering their products to Russia. That's how Elitnye Kaminy was founded," says Repchanskij.

In addition to fireplaces, the Tulikivi product selection also includes sauna heaters that Elitnye Kaminy often installs in customers' saunas. Installing a sauna may also lead to purchasing a hot tub.

"Hot tubs work best close to a sauna. We can offer hot tubs to a majority of our customers buying Tulikivi products," Repchanskij says.
Growth and progress with Kirami
The main business of Elitnye Kaminy is selling and installing the products of the fireplace manufacturer Tulikivi as a turnkey service. In addition to the Kirami and Tulikivi products, the company also resells the products of the chimney solution supplier Schiedel.

"For us, Kirami means reliability, quality, a flexible approach to partners and customers, and the will to continuously grow and develop. It also fits our own goal for the future: progress and increased sales," Repchanskij says, summarising his company's vision.

Currently, Elitnye Kaminy has 20 employees, their own studio shop in the centre of St. Petersburg and a warehouse close to the St. Petersburg ring road.
Elitnye Kaminy

2 -aja Sovetskaja 25 A
RU-191024 St. Petersburg
Russia
www.elit-kamin.spb.ru