Austrian hot tub retailer adventureSPA revisited
Adventure Spa part 2, 2022
Austrian adventureSPA has steadily grown, and sells more and more hot tubs
We first introduced our long-term Austrian retailer adventureSPA in our blog in 2018, so it is time to take another look at how they are doing today.
adventureSPA started as a small one-man business in the garden of Thomas and Ulrike Werner in 2011. The company has steadily grown since, and in January 2021 it became a limited liability company with five employees. 
"Thomas is the boss and an all-rounder – he knows almost everything, and we can all ask him if we need help or if clients have problems and need some technical information. Ulrike, Thomas' wife is also our boss and involved in sales, Theresa and I, do marketing and sales, and Philip is our truck driver and technician too," says Angela Pointner from adventureSPA.
New, bigger and better premises opened in 2020
Since 2013 the company had a showroom and shop in Grödig, but the premises were eventually closed due to reconstructions. The company opened a new showroom in November 2020.
"We got the opportunity to move to new place in our home village of Anif. It offered us more possibilities, a better warehouse and better infrastructure. The old and new showrooms are only five kilometres apart, so clients could easily find us even after the move."
The new premises offer a lot more place for the showroom and warehouse – 600 m2 altogether – and a separate office for working in peace. 
"Everything is in one place now. Before the move, the storage was in a neighbouring building."
The company had an in-house exhibition in the autumn of 2022 and celebrated their jubilee at the same time.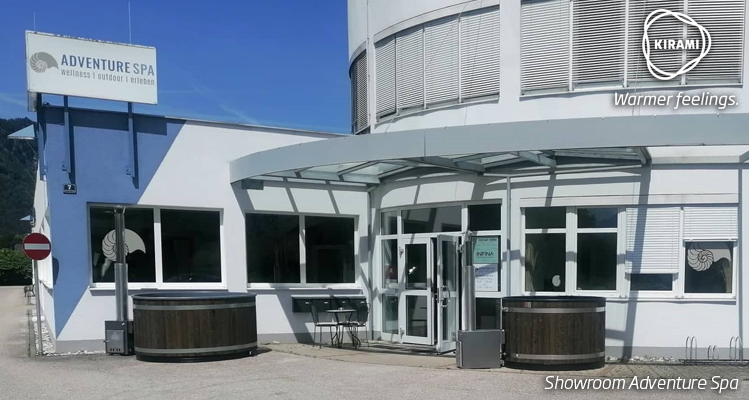 Demand for hot tubs has increased
Due to the crises in the last two years, there has been an increase in the demand for hot tubs. A lot of people in and around Austria wanted to brighten up their gardens with hot tubs: when they couldn't travel, they wanted to relax at home, heat the hot tub and have barbecue with friends. 
"Our clients are lucky enough to have gardens where they can put the hot tubs. We rarely need to install hot tubs on the 5th floor of a building, but we have done that too!"
The most popular hot tubs that adventureSPA sells are the plastic ones. Angela mentions especially the Comfort Family L with grey interior and thermowood exterior. Also, the wooden Original Woody is very well liked.
Interest in Kirami FinVision® -saunas is also on the rise
In Austria, the interest in saunas is growing.
"The Kirami FinVision® -sauna Original and the Kirami FinVision® -sauna Nordic misty are great saunas. We have had them with us at fairs and the reception has been good. The customers are very excited about the rustic, Nordic style of the saunas which is not so usual in Austria." 
The customers also appreciate for instance the fact that they can extend the saunas with other modules like a wardrobe or a lounge, or that the opening direction of the doors can be individual. As the demand for wood-heated saunas is increasing, it is good to know that the modern Kirami FinVision® -sauna Nordic misty can now be equipped with a wood-burning stove. 
"On our homepage, our customers will find a good description of all the module possibilities. We are also opening a new homepage for saunas only, in the hope of increasing the interest for them even more."
? Check out adventureSPA's new sauna pages
In the horizon: more sales and always the best service
In the future, adventureSPA plans to continue to have satisfied clients and to offer them the best quality products and services, and the best price. And of course, they plan to sell more and more Kirami hot tubs.
"To achieve that, we need to become more famous in Austria. People need to talk about us, come to our showroom, and buy from us. When we serve a client well, they will talk and recommend us to others, saying "go to adventureSPA, they will help you!" This is what we call buzz marketing."
Ulrike Werner says they are highly experienced in water treatment and help people to have the best time in and with their hot tubs. When someone buys from them, they receive the best after-sales support.
"The need for technical support will rise as well in the future. Due to having more and more clients, there will be more things to fix, and more spare parts are required. That's why we also need the reliable employees in our company."
adventureSPA
Gewerbeparkstraße 7, 5081 Anif, Austria
+43 6246 20301
adventureSPA homepage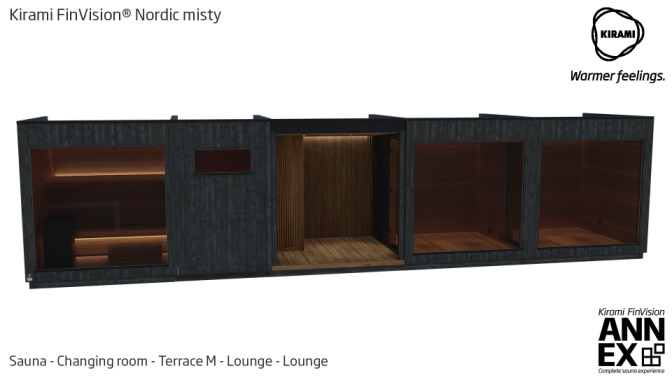 Kirami FinVision® Annex modules
Kirami FinVision® Annex modules
Kirami FinVision® Annex modules
Kirami FinVision® Annex modules
Kirami FinVision® Annex modules