Buying a hot tub made easy
Selecting and buying a hot tub 
Buying a hot tub is often the result of a long deliberation process. In addition to producing quality hot tubs, Kirami wants to ensure that the purchasing process is as effortless as possible for the customer. That is why Kirami has made choosing and buying a hot tub easy as pie.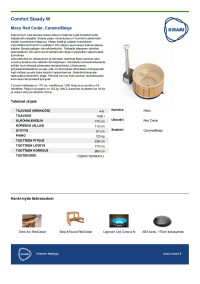 We think it is important to make sure that the process of buying a hot tub runs smoothly. That is why we have developed an aid for selecting the best tub for you and made it easy to do business with our resellers by making downloadable product cards available on our website. You will get more than you initially thought when purchasing a hot tub from us: we reward registered customers with a small gift.
The 3D hot tub selector by Kirami helps you find the right place for your tub
You can use the Kirami 3D hot tub selector to see what type of tub is best suited for your garden. You can upload a picture of your garden into the software and use it to find the perfect spot for your tub.  You can use the software to try out different models, colours and accessories and play with tub dimensions and set the correct perspective with the help of reference dimensions.
Resellers may also use the tub selector when showing customers the various hot tub options.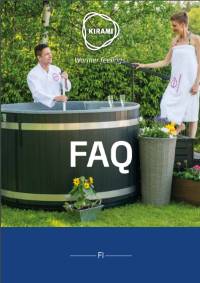 Brochures to your aid
We have compiled frequently asked questions onto our website to help with any questions related to tubs. You can download brochures from the website or get your brochure booklet from resellers. 
Accessories for all purposes
Bathing in a hot tub is an excellent way to relax. That is why purchasing Kirami accessories to make your experience even better has been made effortless. The easiest way to purchase accessories is through our resellers. You can visit our website and download the product card for any product you wish to buy and show it to the reseller in the store. This way, the salesperson will immediately know which product you are looking for and you will have your product in no time.
Sometimes customers fall in love with our hot tubs at a trade fair, for example, but make the purchasing decision at home. That is why we have added QR codes to our product catalogues to direct customers straight to the correct section of the website without having to wonder which product they are looking for. Thanks to QR codes, customers also have easy access to informative blog posts.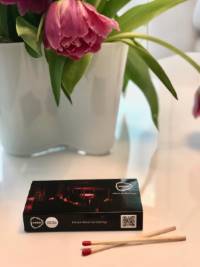 Register your hot tub to reap rewards
You should register your Kirami products to access benefits and usage tips for your specific product. Registering is easy: hot tubs are delivered along with a matchbox with a QR code leading to the registration page. You can snap a photo of the code with your mobile device and access the registration page directly.
A reseller network with reach
Kirami has a comprehensive and reliable network of resellers, which includes several experts. Our resellers will help you with any questions or decisions you have to make regarding your hot tub.
Learn more about our resellers
Learn more about Kirami hot tub models
Kirami sales: 
Miro Männistö, Export sales, +358 40 1686 003 
Or by email: firstname.surname@kirami.fi