Sauna and a hot tub suit a Swedish yard, too
Customer's story: Jessika Fransson 10/2021 
The sauna and hot tub package completes the Franssons' leisure time
- The whole family enjoys Kirami's FinVision sauna and the Breezy hot tub
Jessika and Anders Fransson live in Uddevalla in Västergötland on the western coast of Sweden. They were looking for a suitable sauna for the yard of their holiday home, and they decided to order Kirami's 20th anniversary package, meaning a Kirami FinVision sauna and a Breezy hot tub. Now they have already enjoyed several months of happy sauna and hot tub moments. 
Jessika Fransson has strong ties to both Finland and Sweden, because she was born in Malmö, Sweden, and moved to Turku in Finland when she was 11 years old.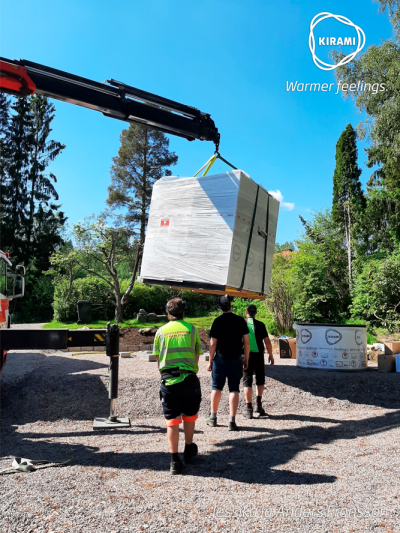 "In 2014, me and my daughters Emma and Sara as well as our dog Harry moved to Uddevalla, because we moved in with my current partner Anders." 
The Franssons have a holiday home in Molkom, which is located in Värmland in western central Sweden. Last summer they were enthusiastically renovating the house, and they thought that a sauna would also be nice to have.
"I already knew Heidi Olà from Kirami, because our children used to go to school together. We decided to ask her for sauna tips, and we ended up choosing Kirami's 20th anniversary package," Jessika Fransson says.
The sauna travelled from Sastamala to Molkom
The package put together in honour of Kirami's 20th anniversary included a Kirami FinVision -sauna as well as a special version of the Breezy hot tub, covered with the same panels as the sauna. They arrived in Molkom in June.
"The order went well and the delivery was also okay, even though the delivery company had knocked some parts around a bit. We also had to wait a bit longer for the roof, but we managed to get everything settled with Kirami, and in the end, everything arrived safe."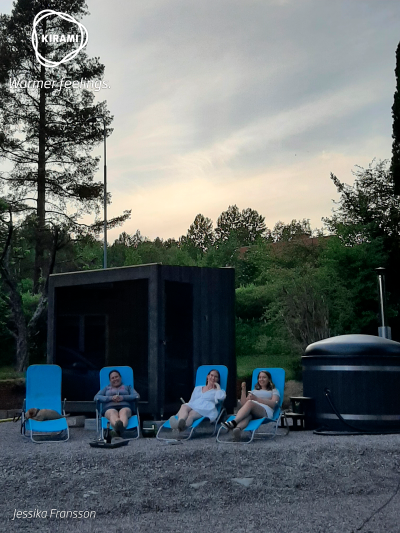 The Franssons cleared a space in the yard of their holiday home and levelled the area. The sauna and hot tub were placed next to each other on a gravel bed. The plan is to build a patio in the area next summer.
For the hot tub, the Franssons also bought accessories such as steps, a mass filter, a cover and safety locks.
"The Legroom lights create a nice atmosphere and light up the hot tub. We also bought a couple of neck rests, a thermometer and a floating drink holder, and as for water hygiene products, we ordered the Biocool Disinfect my pool and Biocool Clear my pool water. All of them have worked great!"
As a bonus, Kirami also added new Kirami FinVision Experience bench towels and tub hats from their summer range.
Enjoyed by the whole family
Jessika says that they often heat up both the sauna and the hot tub, but if they have less time, they only heat up the sauna.
"Anders and me use it the most often, because we spend more time in Molkom than the rest of the family. Of course, everyone enjoys both the sauna and the hot tub, and during the summer holiday, we treat ourselves to both almost every night!"
By the time of writing this, they have not yet had any Swedish guests over to go to the sauna or dip into the hot tub. 
"Still, when my mom was visiting from Finland, the whole family went to the sauna and had a great time in the hot tub."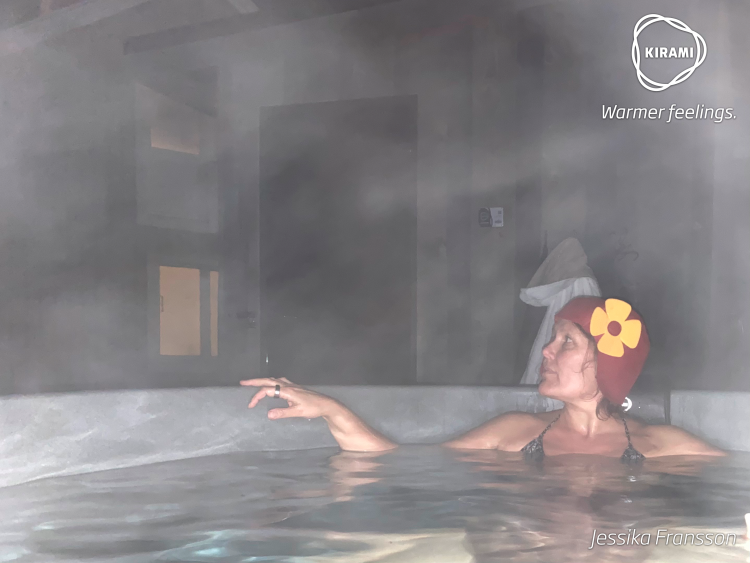 Little differences between Finland and Sweden
Jessika has noticed that Swedish sauna customs do not differ much from the Finnish ones.
"Finns may go to the sauna more often, and more Finns have a sauna of their own. The Swedes also don't go to the sauna as often in the summer as Finns do." 
In Sweden, outdoor saunas are not as common as in Finland.
"I'd say that there are more outdoor saunas in Finland. When driving around in Sweden, you can spot a sauna here and there, but not as often as in Finland."
The Swedish regulations on wood-heated saunas differ slightly from the Finnish ones, and they had to apply for a permit from the authorities for a wood-heated sauna. The chimney of the sauna that arrived at the Franssons also had to be changed to a taller one to meet the local requirements. Before first use, a chimney sweeper came to inspect the sauna and granted permission to use it. Even though the hot tub is heated with wood, it was not necessary to apply for a permit for it. 
Always ask the local authorities for advice about permits for a sauna! In Finland, there is an extensive legal reform being prepared that would allow the construction of small outbuildings of less than 30 square metres. The change would apply to all buildings other than actual residential buildings, meaning that outdoor saunas would also be included.