You can admire the northern lights from the hot tub
 Photos: Joonas Linkola
Customer story 20.04.2020
A family business in the middle of the nature of Lapland
Wild Blueberry is a small family business in Norvajärvi, near Rovaniemi. The company offers tourists experiences at the family cabin, in the middle of the nature of Lapland. The idea for the company arose at the end of 2017, when Rovaniemi did not have enough available private saunas or opportunities to show tourists the way of life in Lapland in particular. As a result, Wild Blueberry was established to offer sauna services for customers. 
- "We have enjoyed the journey in the field of tourism since late 2017, and we have been able to share thousands of stories with a lot of people around the world," Alex Korhonen is happy to say. 
The company is led by Kimmo Luiro, and his son Joakim Luiro and godson Alex Korhonen are also involved in the business. The three men are very close. Kimmo and Joakim are locals, but Alex only returned to his roots in Rovaniemi after studying business economy. The company's responsibilities are divided equally. Kimmo takes care of invoicing, and he naturally also looks after the younger boys. Joakim is responsible for the website and customer service, among other things, while Alex is in charge of marketing and customer service.
The customers of Wild Blueberry mainly come from places such as India, Central Europe and the United States. The customers have found the company easily on social media and by searching for a sauna in Rovaniemi on Google. Visit Rovaniemi as well as certain other partners also play an important role in their sales.
The peaceful lifestyle and people of Lapland attract tourists
For the most part, the customers of Wild Blueberry are looking specifically for peace and a private sauna. Many tourists want to meet locals and see what life is like in Lapland. This is one of the company's advantages, because they only provide private services and always want to learn to know their customers and talk with them. An evening in Lapland includes bathing in the sauna, ice swimming, hot tubbing and enjoying local food with good company in a Lappish hut.  
- "Usually we tell our customers that it's best to start the evening in the sauna, then go ice swimming and plunge straight into the hot tub from there. We recommend doing everything in this order, because once people get into the hot tub, few of them want to leave anytime soon. Normally the customers only spend a few hours with us, but we do not want to rush them and our schedules always have plenty of flexibility. We want to serve our customers as well as possible and take really good care of them. These are the benefits of a small company," Alex reveals.
A Finnish spa experience in a hot tub in the middle of nature  
Wild Blueberry has two Kirami hot tubs. They first got an Easy hot tub a few years before establishing their company. They installed the tub on top of a trailer so that they could transport it to different places. "A traditional wood-heated hot tub works for us," Alex says.
-    "We decided to get another hot tub, the Kirami Cozy, which is a slightly newer model, and we installed it permanently in our yard. Having two options has been very useful, because when we get bigger groups, we can use both tubs at the same time," Alex says.
Wild Blueberry offers traditional Finnish spa experiences. The hot tub has been the birthplace of many stories. With the stunning view of the northern sky, many have had the chance to admire the northern lights while they bathe. What could be better than spending your honeymoon in the middle of the most beautiful nature in Lapland, looking into the distance and enjoying the quiet in a hot tub? 
-   "Reindeer sometimes visit us in the yard during the time of year when they roam freely. The reindeer live with people for most of their lives, and they are not afraid. We have plenty of lichen for the reindeer to eat if they want to visit," Alex says, giving a glimpse of everyday life in Lapland.
Menu à la Wild Blueberry
The range of Wild Blueberry's services also includes food. Based on the customers' wishes, they serve blazed salmon, reindeer or vegetable couscous. The reindeer and salmon are cooked on an open fire in the Lappish hut, giving the customers the opportunity to experience the process with all their senses. A light salad and a potato side dish are easily added to complete the meal.  
-    "It's no restaurant, of course, but not many tourists could get a dinner like this anywhere else! There must be a bit of Lappish magic in there somewhere," Alex muses.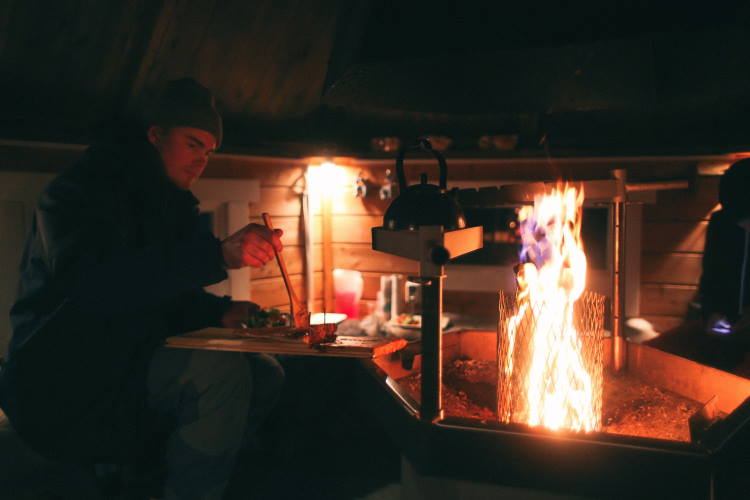 Welcome to enjoy the nature of Lapland with Wild Blueberry's services!
Wildblueberry.fi
Blueberryexperiences@gmail.com
+358 40 042 5950
Instagram: Wildblueberrylapland
Facebook: Wild Blueberry