Katri Lylynperä
Katri Lylynperä - a promising young cross-country skier from Finland!
Katri Lylynperä is a 23-year old cross-country skier from Vammala, known for her talent, vigour and positivity. She currently lives at Vuokatti, which is better for practice, but she visits Vammala, currently known as Sastamala, whenever she can, to meet her family and friends.
How did Katri discover sports?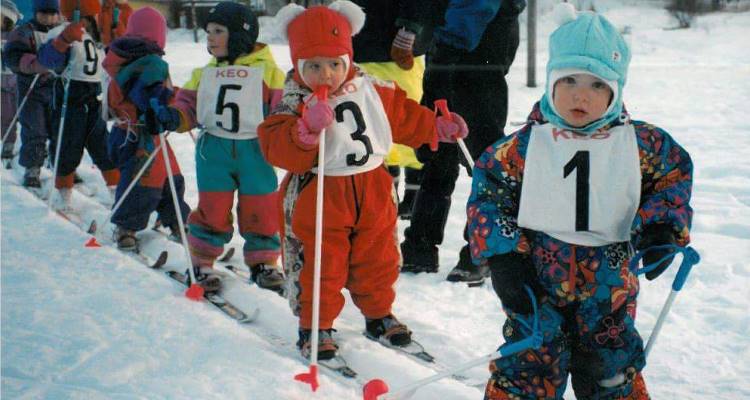 As a child, Katri did not find skiing fun at all. However, the rest of the family, particularly Katri's older sister, were enthusiastic enough about skiing for Katri to catch the enthusiasm as well. After all, skiing was a great way to deal with all the extra energy she had as a child, as well as enjoying the outdoors.   
Katri has told us she was 4 when she received her first trophy for skiing. However, it took until she was 12 for her to discover her real spark for skiing and hunger for winning. This was when Katri shyly asked Rauni Suomela from Vammala to be her coach. Rauni agreed. At first, practice meant three training sessions per week, at times that would suit Katri the best.
Katri's first sport association was called Vammalan seudun Voima. As a teenager, Katri transferred to Ylöjärven Ryhti. When she became a professional athlete, Ski Team Kainuu in Vuokatti, which specializes in cross-country skiing, would become her new team. The current skiing season is Katri's second at her current association. For the last three years, her coach has been Eero Hietanen, a cross-country skiing training manager. Eero is responsible for all Katri's coaching, both the physical practice sessions and skiing itself.
What is a 'normal' day like for Katri?
A professional athlete's daily routines can differ a lot, depending on the period and sport. Summer marks the hardest training period for cross-country skiing. The routines and schedules are planned in an exact manner, from waking up to eating, practice, and finally rest and relaxation. According to Katri, her typical summertime schedule would look like this: in the morning, she wakes up before nine, eats breakfast, and undergoes her first athletic training session, which takes at least 1,5 hours. Followed by this is more eating, sleeping, and yet again athletic practice for 1,5 hours, after which she enjoys a meal again. The athletic practice sessions, or "jogs" as Katri calls then, can consist of gym sessions, running, roller skiing or some other sport. In the evening, Katri has a few hours of free time, but by then she usually has expended too much energy to do anything else. During summertime, her schedule consists approximately of 20 h / week of practice.  In her free time, swimming and sunbathing are one of Katri's methods of relaxation. Indeed, it's quite possible to randomly run into Katri at the beach during summer. 
During winter, practice drops to 5-8 hours/week. This is a time for competitions, and travelling to where the contests take place takes up a lot of Katri's time. Chronologically, winter is a lot more consuming. For example, there were well over hundred days of travel in 2016-2017. Her weekends are usually spent competing, and her Wednesdays and Thursdays travelling. Currently, she travels more extensively in the foreign countries than previously, and in early 2017, Katri has already visited the United States, Norway, Italy and Latvia, even though at the time of writing for this article, it's only early March.
At spring, Katri can relax a bit more from the sports, but it is during this time that emphasis moves towards further resting and the acquisition of new sponsors. Katri wants her new sponsors to become inspired about supporting her, and she promises to ski hard and make her home known all around the world. Such a visibility would be quite welcome for Sastamala!
Other support and security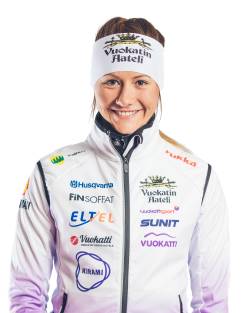 A skier's skiing equipment must always be in top-notch condition. In Kajaani, this was mainly Seppo Koivula's responsibility, but due to continuous travel, Katri also needs people on the road to be able to take care of the equipment. According to Katri, when at home, she can take care of the skis herself, together with her supporting crew.
The supporting crew, which offers both mental and financial support, consist of Katri's family, her skiing association and her sponsors. The family's support and how it effects Katri's mental welfare is more important than economic support. As an athlete, Katri must take good care of her mental well-being, and it may take a mental toll to not always be able to be home when her family is, for instance, ill during Christmas. Nevertheless, an athlete must always be ready for tough choices regarding their life; for instance, studying, having a family, skiing, competitions and so on; they must always be mindful of the things that motivate them. Sadly, the resources for better mental welfare often just are not there, despite the need. The coaches could be supported, directed and trained more in this field, as a coach always knows their own athletes the best.
Katri thanks the supporters that support her and believe in her success as an athlete. She wishes that local media could also support their region's athletes more actively. There are many athletes from Sastamala who have stood out from the crowd into the world of global contests, but how many people are aware of these heroes? Katri would like to read more about them from the local papers. Katri stresses how much her local area means to her. Vammala is where her roots are and where all the basic work regarding her upbringing and training has taken place.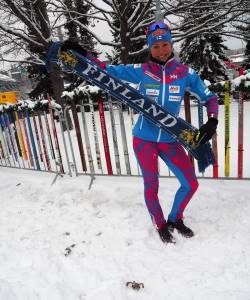 Which contests has Katri been in?
Katri has brought home success and glory from many races. When she was 17, she received silver from the traditional annual sprint contest between the Nordic countries. In 2012, when 18, she was in Winter Youth Olympics in Innsbruck, being fifth in free sprint. She has already participated in six World Youth Championship games; the first 3 years in the U20 series for youth and the next 3 years in the U23 series. In 2017, for the first time, she participated in the World Championship games for adults in Lahti. In these races, in women's freestyle sprint, she came in 32nd, but she is determined to improve her standing. The Lahti World Championship games impressed Katri a great deal. She felt it was a great experience to participate in such a major event in Finland. According to her, even though the previous games at Falun had seen a record-breaking number of viewers, this was still 50,000 less than the target number of sold tickets for small Finland. Furthermore, millions followed the games via TV. According to Katri, the contest was successful, and it is high time to forget the bad events of 2001 in Lahti. Katri has often been asked about this subject when abroad and has told she can't remember much, as she was only 7 back then.
How does Katri relax?
As noted earlier in this article, swimming is one of Katri's hobbies for her free time, and is one of the most important sources for relaxation and recovery. After all, the best way for muscles to recover is to combine warmth with coldness. Depending on the situation, this relaxation takes place wherever possible, often at a pool, spa or a lake. According to Katri, even while travelling, she would prefer to relax in a warm bathing barrel, and would select this option every time it was available. Her dream would be for all different locations to have a sauna, a bathing barrel and a lakeside view.
Kirami Oy's salesperson Kalle Pakkala, a noted sports enthusiast, got a chance to test Sastamala's skiing paths during a playful competition with Katri. Despite Kalle's best attempts, Katri was already ahead of him while he was still admiring the beauty of his own ski boots. In the next practice session at Vuokatti, they will face in some yet-to-be-determined ballgame, where Kalle will present a tough and ruthless challenge. Indeed, Katri ponders whether this time she will be the one to be left tying her sneakers ?
On behalf of Kirami Oy, we wish both athletes luck and success for their future contests – Katri for skiing and Kalle for Team Kirami Beach Volley series for 50-year-olds!
Katri's future sport events can be found at her Facebook page