Transportation by truck, crane and even helicopter
Kirami sells hot tubs to many different places around Europe. However, the final destinations of the hot tubs are not always the most accessible when it comes to delivery and transportation, with typical challenges including nature as well as narrow streets and yards. In spite of the difficulties that these might pose, Kirami's hot tubs are always delivered in pristine condition.

The delivery of Kirami's hot tubs is handled by local transport companies and their partners. However, we always provide transport companies with the dimensions and weights of the hot tubs in advance.
Delivery trucks deliver as close as possible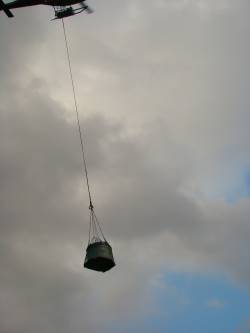 When we sell a hot tub, we promise the customer to deliver it as far as it can be transported by truck. From there, the transportation of the hot tub to its final destination is handled by the customer. For short distances, we recommend having 3–4 persons on hand to help carry the hot tub. That's all you need, as all our hot tubs weigh less than 300 kg.

Our hot tubs are usually delivered by delivery truck equipped with a tail lift. However, sometimes the customer's yard may be very small or the roads leading to the delivery destination may be so narrow that the hot tub cannot be delivered on a large trailer. In the UK, for example, finding a suitable delivery truck has often proved challenging. 
Cranes, helicopters or motorboats provide assistance when needed 
Many customers want to place their hot tubs on roof terraces, in which case they need to arrange a crane. Cranes are also frequently needed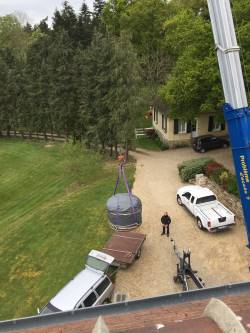 in the Netherlands, where narrow yards and small gates often make the delivery of a hot tub by other means impossible. We trust our partners, meaning the transport companies, to deliver our hot tubs according to an agreed schedule, so that the customer can take care of cranes and other special arrangements on time.

The most challenging hot tub delivery destinations include the Swiss and French Alps, where the roads are very narrow and sometimes even non-existent. In these situations, transportation has sometimes been handled even by helicopter.

Even Finland, the land of a thousand lakes, has places that cannot be reached by land. As a result, many hot tubs have also been transported to their owners by motorboat, for example. 
More footage of the difficult transport

Best regards,
Arja Saarikoski and Miro Männistö
from Kirami Oy's export sales