Gift ideas : Customise your hot tub experience
You can improve your hot tub experience even further with many accessories that also work as gifts for hot tub enthusiasts.
Added comfort for your baths
When bathing, it's important to take care of hydration. You can keep your drinks by the tub with fixed drink holders that blend beautifully together with your hot tub. If you want to have your beverages even closer, you can have them on hand with our floating drink holders that keep the drinks fresh on the warm bathwater. You can also keep your drink cans cool with our neoprene coolers. Unbreakable Drinkit pints and champagne glasses are more stylish than disposable cups and safer than glassware..
You can also add atmospheric lighting around your tub with wooden lanterns, in which it is recommended to use a battery-powered light source.
You can relax with ease with neck supports that can be fixed to the edge of the tub. They are available in white, black and brown. After the bath, you can remove the supports so that you can close the lid and protect the supports from hot sunlight. In cold weather, you can protect the bathers' heads with Tubhats which are available in several cute models, with or without horns.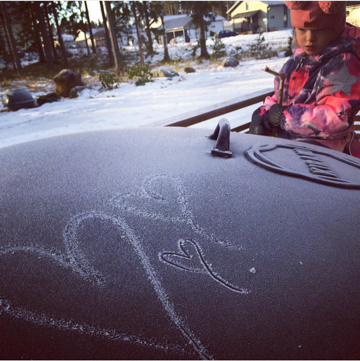 Customise your hot tub
Steps that match your hot tub make it safer to climb in and out of the tub and give the tub a stylish finish. There are step models and colours available for each Kirami tub: either straight-lined basic steps or curved steps that conform to the tub's shape. The wooden steps are made of stained spruce or red cedar, while the aluminium-framed steps have composite panels.
Purchasing a lid for your tub is worth it as it will protect the tub in between uses and helps the water heat up faster. The lid also increases safety for families with children. A floating thermometer, with a pretty little goldfish swimming to and fro, is a nice addition to your tub.
Lighter woodchopping
Woodchopping doesn't need to be tough and difficult. The Kindling Cracker has a safe and easy-to-use mechanism for splitting firewood into kindling. Even a child can use it! In addition to the cast-iron apparatus, you only need a hammer or a similar tool, and soon you'll have a pile of right-sized kindling. You can carry your firewood next to the heater with our plywood firewood carrier that is both light and stylish.
Barbecue in any weather
You can barbecue throughout the autumn and winter when you have suitable equipment. Our Outstanding products withstand heavy use and all kinds of weather conditions. An open fire creates a special atmosphere in the dark and cold nights.
Browse our Outstanding products
Here you will find your nearest retailer