To the hot tub full of holiday atmosphere in addition to a Christmas sauna
The family of Anu-Elina Puustinen has enjoyed a Kirami hot tub at their cottage in Kangasniemi for three years. The hot tub offers a place for the whole family to relax as a counterbalance to the busy cottage life. According to the Puustinen family, the best time to bathe is in the winter while it is snowing, and so they also heat up the hot tub during Christmas.
"We were excited about getting a hot tub for the cottage. We were able to check out different kinds of options and make the decision to buy at the Cottage Fair. It was almost immediately clear to us that we would get a Kirami hot tub for the cottage: it's durable, of high quality, and the price is reasonable.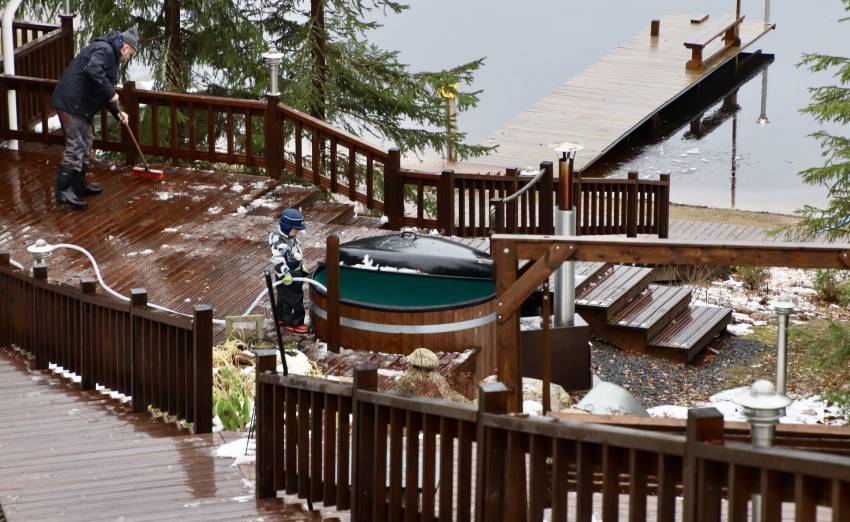 We bought the hot tub right when the building of the yard and the terrace started. The tub found its own natural place easily at the side of the terrace, where it was sunken to make slipping into the hot water as easy as possible. The tub was heated for the first time immediately after installation in the middle of the construction site, because the terrace construction hadn't started yet. We climbed into the hot tub by using a step ladder.
Straight into the hot tub from a hole in the ice
In addition to bathing in a normal sauna, it's also nice to spend time together in the hot tub. Even though the hot tub is not heated every time with the sauna, it has become an important part of our cottage life, especially in the autumn, winter and spring, when the air is cool enough. You can bathe in any weather.
We spent last Christmas at the cottage and heated up the tub. It was a nice way to relax and create unforgettable moments. In fact, the most perfect time to jump into a steaming tub is during the winter, when it's snowing or when the night is clear. Then you can look at the stars and listen to the sounds of the forest. The starry sky and the steaming water create a magical atmosphere. We have also enhanced the mood by adding lights around the hot tub that shine beautifully when the night gets dark.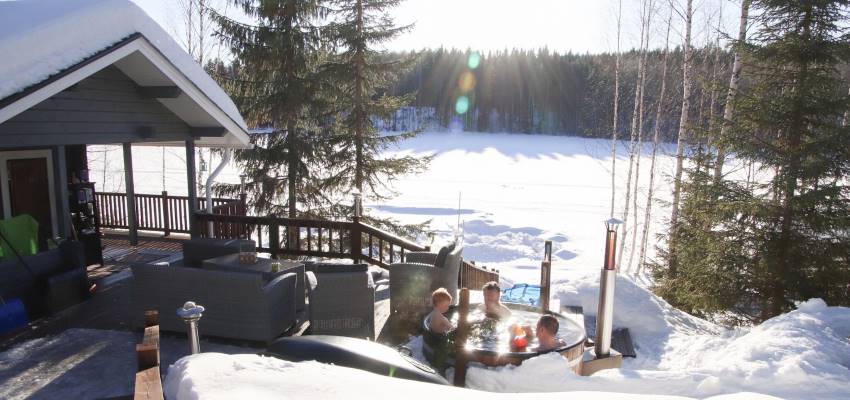 We first go into the sauna, then we take a dip in a hole in the ice, and from there we go straight into the hot tub. It's an amazing combination! Bathing hats keep us warm, even in an icy wind. The water remains pretty warm under the cover until the next day, so we often also take a bath on the day after an evening in the sauna. Just toss in a few bits of firewood into the heater, and the hot tub is ready to go again.
The whole family uses the hot tub. Cottage life includes a lot of outdoor exercise and work, so the hot tub is a nice way for us adults to relax. Still, the one who's the most excited about the hot tub is our 4-year-old son. He likes to play all kinds of games in the tub with toys like a mini motor boat, even if its motor usually gets stuck in someone's hair."
Happy holidays!

Anu-Elina Puustinen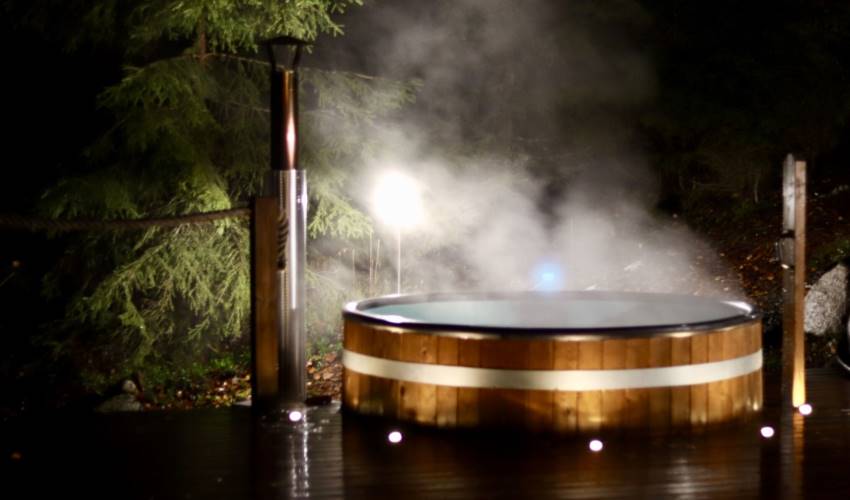 See more photos on Anu-Elina's Instagram:ihana_mokki