Kirami product catalogue 2022
21 years of atmospheric spa moments
Kirami provides its customers with high-quality hot tubs, handmade Kirami FinVision -saunas, Outstanding garden products and a wide array of equipment and accessories.
The story of Kirami began 21 years ago, in 2001. The first hot tubs were imported from Sweden, but soon the company launched its own production. In 2006, the company moved to new premises and its product range expanded to include hot tubs made from heat-treated wood. Kirami moved to its current facilities, measuring over 3,300 square metres, in early 2011. The following year, it introduced hot tubs with plastic inner liners and a comprehensive selection of water treatment chemicals to the market.
2015 saw another expansion of the product range; the high-quality Outstanding series focused on BBQs, outdoor wood burners and garden furniture made from robust yet fashionable COR-TEN steel. In 2019, Kirami created its first Kirami FinVision -sauna – a model closely connected to nature – and the product line's huge popularity has allowed it to keep growing.
Kirami AB was established in Sweden in February 2020, and the number of resellers increased as several new chains joined in. Furthermore, Kirami has also been part of the Harvia group since 28 May 2021.  In addition to the Finnish market, Kirami manufactures products for export. These days, Kirami's hot tubs and saunas can be enjoyed around Europe, as well as in Japan and the US.
Kirami's mission is to offer top-quality and easy-to-use products that you can feel proud for owning. All the tubs, pools and Kirami FinVision -saunas are handcrafted using carefully selected materials and assembled at Kirami's factory in Sastamala, Finland.
We wish you enjoyable moments browsing our new English catalogue!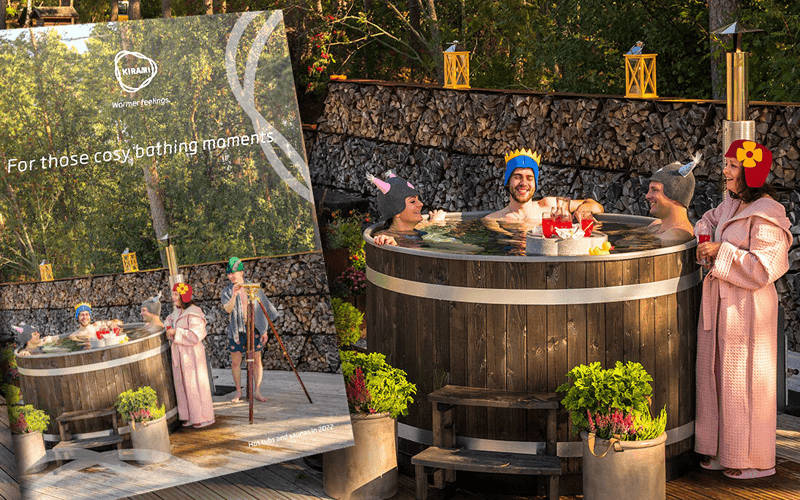 Please remember to register your hottub
Customers can register their Kirami hot tub bought after 2015. With the registration information Kirami can help out with your questions and needs for accessories or spare parts.